K.J.L. (Koen Jan Leendert) van den Bosch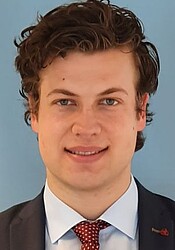 Rotterdam School of Management (RSM)
Erasmus University Rotterdam
ERIM PhD Candidate
Field:
Finance & Accounting
Affiliated since 2022
PhD Track Values in Finance
Current research in finance as well as current developments in financial markets show increasing interest in incorporating ethical, social, and environmental values into finance theory and practice. Financial markets are witnessing continued and steady increase in inflows of capital with global sustainable investments exceeding $35 trillion in 2020 according to the Global Sustainable Investment Alliance (GSIA). New research areas are emerging that analyze the role these values play in financial markets. A key question in the literature is: how do such values relate to and interact with financial risk and return considerations that are key concepts in research on financial markets? Other important research avenues are to analyze the role of the financial markets in measuring, pricing, and hedging social, un-sustainable, and environmental risks, analyzing investment strategies and the role and performance of different types of financial investors focused on sustainable and impactful investments.
The aim of this project is to develop several research questions that oscillate around this broad theme and provide new insights into the role of ethical, social, and environmental values in financial markets.
This is a joint project of the ERIM finance department and the Erasmus Initiative Dynamics of Inclusive Prosperity. The initiative combines members of the Erasmus School of Philosophy (ESPhil), Rotterdam School of Management (RSM), and Erasmus School of Law (ESL), and channels their expertise into ambitious multi-disciplinary research projects. This research project is related to interdisciplinary research on "Values in Finance" within the initiative that lies at the intersection of finance and philosophy and analyzes the role of values in finance research and practice.
Keywords

Sustainable finance, climate finance, asset pricing, investments, inclusive finance, ethics, philosophy

Time frame

2022 -
---
Address
Visiting address
Burgemeester Oudlaan 50
3062 PA Rotterdam
Postal address
Postbus 1738
3000 DR Rotterdam
Netherlands