Dr. R. (Remy) Spliet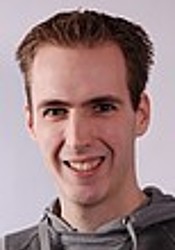 Erasmus School of Economics (ESE)
Erasmus University Rotterdam
Member ERIM
Field:
Logistics & Information Systems
Affiliated since 2009
Publications (11)
Articles (10)
T.R. Visser & R. Spliet (2019). Efficient Move Evaluations for Time-Dependent Vehicle Routing Problems. Transportation Science .

K. Dalmeijer & R. Spliet (2018). A branch-and-cut algorithm for the Time Window Assignment Vehicle Routing Problem.

Computers and Operations Research, 89

, 140-152. doi:

10.1016/j.cor.2017.08.015

R. Spliet & R. Dekker (2016). The driver assignment vehicle routing problem.

Networks, 68

(3), 212-223. doi:

10.1002/net.21694

S.K. Naber, D.A. de Ree, R. Spliet & W. Van den Heuvel (2015). Allocating CO2 emission to customers on a distribution route.

Omega, 54

(july), 191-199. doi:

10.1016/j.omega.2015.01.017
Doctoral Thesis
R. Spliet (2013, oktober 18).

Vehicle Routing with Uncertain Demand.

Erasmus University Rotterdam (128 pag.) (Rotterdam: Erasmus Research Institute of Management (PhD Serie 293)) Prom./coprom.: prof.dr.ir. R. Dekker & dr. A.F. Gabor.
PhD Tracks (3)

Role: Co-promotor, Daily Supervisor
PhD Candidate: Kevin Dalmeijer
Time frame: 2014 -

Role: Co-promotor, Daily Supervisor
PhD Candidate: Thomas Visser
Time frame: 2015 -

Role: Co-promotor, Daily Supervisor
PhD Candidate: Mathijs van Zon
Time frame: 2017 -
---
Address
Visiting address
Office: ET-43
Burgemeester Oudlaan 50
3062 PA Rotterdam
Postal address
Postbus 1738
3000 DR Rotterdam
Netherlands