S. (Stefano ) Tasselli
RSM - Rotterdam School of Management
Erasmus University Rotterdam
Member ERIM
Field:
Logistics & Information Systems
Affiliated since 2015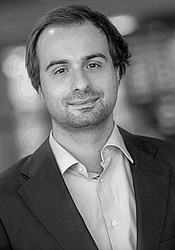 Stefano Tasselli is an Assistant Professor at the Innovation Management group of the Rotterdam School of Management, Erasmus University. He holds a PhD from the Judge Business School, University of Cambridge. His research and teaching focus is on the interplay between psychological and relational antecedents of organizational functioning, including the analysis of the micro-foundations of organizational social networks; social networks, knowledge transfer and innovation; and organizational theory. Specifically, his work emphasizes the relationships between characteristics of individual actors (personality, motivation, and cognition) and network structure in explaining outcomes of importance for individuals and organizations. At the RSM, he is currently teaching 'Social Networks and Leadership' in the full-time MBA, and post-graduate courses on 'Organization of Innovation' and on 'New Business Development,' in collaboration with the Erasmus Center for Entrepreneurship. He previosuly held research and teaching positions at the University of Cambridge; at Bocconi University; and at the Swiss National Found/ University of Lugano. His professional experience also includes consulting in McKinsey and Company. Among the empirical settings of interest for his research, the health care industry, and incubators/ accelerators for new entrepreneurial opportunities. In the last few years, he has been invited for more than 50 research seminars and presentations, and has received more than 15 awards and recognitions from leading academic conferences and research institutions. His work has been published in leading journals in the field, including the Academy of Management Journal, The Academy of Management Annals, Annual Review of Psychology, Journal of Management, Organization Studies and Research in the Sociology of Organizations. Dr. Tasselli also wrote and talked of his research in impactful business practitioner oriented journals and venues, including Forbes, LSE Business Review, RSM Discovery, Ideas for Leaders and BNR- Business News Radio. His work has been featured, among the other venues, in the Chicago Booth Review and in LID Radio.
Awards and Honors:
2017: "Alumnus of the Month," Wolfson College, University of Cambridge
2017: "ABCD Award", Academy of Management Meeting, Organization and Management Theory Division, Atlanta, GA
2017: "High Performing Researcher" at ERIM (Erasmus University Research Institute for Management)
2016: "Innovative Teaching Award", Rotterdam School of Management, Erasmus University
2016: "High Performing Researcher" at ERIM (Erasmus University Research Institute for Management)
2015: "Life-long Membership", Wolfson College, University of Cambridge
2015: Named to the Journal of Management "Editor's Choice Collection" on Social Networks
2014: Honorary "Research Associate", Judge Business School, University of Cambridge
2014: "Best Paper Award for Young Researchers", Italian Healthcare Management Society (AIES), Venice, Italy
2013: "Best Paper Award", CORE Winter Doctoral Conference, Judge Business School, University of Cambridge
2013: "Best Paper Award for Young Researchers", Italian Healthcare Management Society (AIES), Trento, Italy
2013: "Best Paper Award", Academy of Management Meeting, HCM Division, Orlando, FL
2013-2014: "Dean's Scholarship for Best PhD Candidates", Judge Business School, University of Cambridge
2011: "Exceptional PhD First-year Report Award", Judge Business School, University of Cambridge
2010-2013: "Full PhD Scholarship", Judge Business School, University of Cambridge
2010: "MPhil Distinction for Outstanding Academic Performance", Judge Business School, University of Cambridge
2009-2010: "MPhil Scholarship", Cambridge Commonwealth, European and International Trust
2004-2006: "Javotte - Bocconi Manca di Villahermosa" Scholarship, Bocconi University
Recognitions (6)
Editorial positions
Administrative Science Quarterly

Ad Hoc Reviewer

Organization Science

Ad Hoc Reviewer

Journal of Management Studies

Ad Hoc Reviewer

Journal of International Business Studies

Ad Hoc Reviewer

Small Group Research

Ad Hoc Reviewer

Human Relations

Ad Hoc Reviewer
---
Address
Visiting address
Office: Mandeville Building T09-25
Burgemeester Oudlaan 50
3062 PA Rotterdam

Postal address
Postbus 1738
3000 DR Rotterdam
Netherlands