dr. S. (Stefano ) Tasselli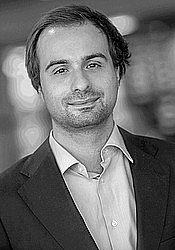 Rotterdam School of Management (RSM)
Erasmus University Rotterdam
Member ERIM
Field:
Logistics & Information Systems
Affiliated since 2015
Stefano Tasselli is an Associate Professor at the Rotterdam School of Management, Erasmus University. He holds a PhD from the Judge Business School of the University of Cambridge. His research and teaching focus is on the interplay between psychological and relational antecedents of organizational functioning, including the analysis of the psychological micro-foundations (personality, motivation, and cognition) of organizational social networks; social networks, knowledge transfer and innovation; and organizational theory. He is currently teaching 'Social Networks and Leadership' in the full-time MBA, and post-graduate and executive modules on 'Organization of Innovation' and on 'New Business Development'. His previous professional experience includes consulting in McKinsey and Company. Among the empirical settings of interest for his research, the health care industry, and incubators/ accelerators for new entrepreneurial opportunities. He has been invited for more than fifty research seminars and presentations, and has received distinguished recognitions from academic conferences and research institutions, including the Best Paper Award at the HCM division of the Academy of Management Annual Meeting (2013), the Best Paper Award at the CORE Conference in Cambridge (2013), two Best Paper Awards at the conference of the Italian Association for Management in health care (AIES, 2013 and 2014), the Innovative Teaching Award at RSM (2016), and the ABCD Award of the OMT division of the Academy of Management (2017). In 2015, he received the life membership of Wolfson College, University of Cambridge, where in 2017 he was also nominated Alumnus of the month. In 2016, 2017, 2018, he has been selected as a high performing member of the Erasmus Research Institute of Management (ERIM). In 2018, he has been recognized by Poets and Quants as one of the '40 World's Best Business Professors under 40;' he has also been awarded by ASFOR (Italian Society for Management Education) as the 'Best Italian Business Professor under 40.' His research has been published, among the other journals, in the Academy of Management Journal, Academy of Management Review, Academy of Management Annals, Annual Review of Psychology, Journal of Management, Organization Studies and Research in the Sociology of Organizations. Dr. Tasselli also wrote and talked of his research in venues of interest for business practitioners, including the Harvard Business Review, Forbes, LSE Business Review, RSM Discovery, and Ideas for Leaders. His research activity was also covered by press and media, including interviews in Business News Radio, Corriere della Sera, Il Sole 24 Ore and La Stampa.
Publications (15)
Articles (11)
S. Tasselli, M. Kilduff & J. Menges (2015). The Microfoundations of Organizational Social Networks A Review and an Agenda for Future.

Journal of Management, 41

(5), 1361-1387. doi:

10.1177/0149206315573996

S. Tasselli (2015). Social Networks and Inter-professional Knowledge Transfer: The Case of Healthcare Professionals.

Organization Studies, 36

(7), 841-872. doi:

10.1177/0170840614556917

S. Tasselli (2014). Social Networks of Professionals in Health Care Organizations.

Medical Care Research and Review, 71

(6), 619-660. doi:

10.1177/1077558714557079

R.S. Burt, M. Kilduff & S. Tasselli (2013). Social network analysis: Foundations and frontiers on advantage.

Annual Review of Psychology, 64

, 527-547. doi:

10.1146/annurev-psych-113011-143828

S. Tasselli & E. Borgonovi (2013). Knowledge Transfer and Social Networks in Health Care. In Academy of Management Best Paper Proceedings
Book Contributions
A. Lomi, S. Tasselli & P. Zappa (2017).

The network structure of organizational vocabularies.

In Peter Groenewegen e.a. (Ed.),

Structure, Coontent and Meaning of Organizational Networks (Research in the Sociology of Organizations, Volume 53

(pp. 65-85). UK: Emerald Publishing
Professional Publications (3)
PhD Tracks (2)
Role: Daily Supervisor
PhD Candidate: Mohamadreza Hoseinpour
Time frame: 2018 -

Role: Co-promotor
PhD Candidate: Qi Zhang
Time frame: 2017 -
Recognitions (9)
Editorial positions (9)
Academy of Management Journal

Ad Hoc Reviewer

Administrative Science Quarterly

Ad Hoc Reviewer

Human Relations

Ad Hoc Reviewer

Journal of International Business Studies

Ad Hoc Reviewer

Journal of Management Studies

Ad Hoc Reviewer

Organization Science

Ad Hoc Reviewer

Organizational Behavior and Human Decision Processes

Ad Hoc Reviewer

Journal of Management

Ad Hoc Reviewer

Small Group Research

Ad Hoc Reviewer
---
Address
Visiting address
Office: Mandeville Building T09-25
Burgemeester Oudlaan 50
3062 PA Rotterdam
Postal address
Postbus 1738
3000 DR Rotterdam
Netherlands