Dr. W. (Wilco) van den Heuvel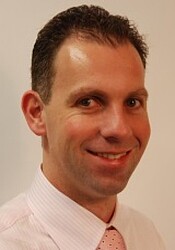 Erasmus School of Economics (ESE)
Erasmus University Rotterdam
Member ERIM
Field:
Logistics & Information Systems
Affiliated since 2002
Wilco van den Heuvel is an associate professor at the Econometric Institute of the Erasmus School of Economics. His main research interests are in deterministic production planning, in particular in extensions of the economic lot-sizing model. The focus of the research is on developing efficient algorithms. His work is published in journals like Operations Research, Omega, European Journal of Operational Research, Computers & Operations Research, and Operations Research Letters.
Publications
Chapter (1)
Academic (1)

van den Heuvel, W. (2010). Lot-sizing. In J. J. Cochran (Ed.), Encyclopedia of Operations Research and Management Science John Wiley & Sons Inc..
Report (31)
Academic (31)

Franses, P. H., & van den Heuvel, W. (2019). Aggregate statistics on trafficker-destination relations in the Atlantic slave trade. (Econometric Institute Reprint EI-1685 ed.) Econometric Institute. Econometric Institute Reprint Vol. EI-1685 http://hdl.handle.net/1765/123363

Turkensteen, M., & van den Heuvel, W. (2019). The trade-off between costs and carbon emissions from lot-sizing decisions. (Econometric Institute Report Series EI2019-19 ed.) Econometric Institute. http://hdl.handle.net/1765/115861

Kerkkamp, R., van den Heuvel, W., & Wagelmans, A. (2018). Balancing Expected and Worst-Case Utility in Contracting Models with Asymmetric Information and Pooling. Econometric Institute. http://hdl.handle.net/1765/104261

Franses, P. H., & van den Heuvel, W. (2018). Aggregate statistics on trafficker-destination relations in the Atlantic slave trade. Econometric Institute. http://hdl.handle.net/1765/112486

Kerkkamp, R., van den Heuvel, W., & Wagelmans, A. (2017). Robust Pooling for Contracting Models with Asymmetric Information. (Econometric Institute Report Series EI2017-10 ed.) Econometric Institute.

Breugem, T., Dollevoet, T., & van den Heuvel, W. (2016). Analysis of FPTASes for the Multi-Objective Shortest Path Problem. (EI report serie EI2016-03 ed.) Econometric Institute. EI report serie Vol. EI2016-03

Romeijn, HE., van den Heuvel, W., & Geunes, J. (2012). Mitigating the Cost of Anarchy in Supply Chain System. (EI report serie EI 2012-03 ed.) Econometric Institute. EI report serie Vol. EI 2012-03

Onal, M., van den Heuvel, W., & Liu, T. (2012). A Note on "The Economic Lot Sizing Problem With Inventory Bounds. (EI report serie EI 2012-04 ed.) Econometric Institute. EI report serie Vol. EI 2012-04

Retel Helmrich, MJ., Jans, RF., van den Heuvel, W., & Wagelmans, A. (2012). The Economic Lot-Sizing Problem with an Emission Constraint. (EI report serie EI 2011-41 ed.) Econometric Institute. EI report serie Vol. EI 2011-41

Onal, M., van den Heuvel, W., & Liu, T. (2011). A note on "Economic Lot Sizing Problem with Inventory Bounds. (EI report serie EI 2011-40 ed.) Econometric Institute. EI report serie Vol. EI 2011-40

van den Heuvel, W., Kundakcioglu, OE., Geunes, J., Romeijn, HE., Sharkey, TC., & Wagelmans, A. (2011). Integrated Market Selection and Production Planning: Complexity and Solution Approaches. (EI reprint serie EI-1576 ed.) Econometric Institute. EI reprint serie Vol. EI-1576

van den Heuvel, W., Gutierrez, JM., & Hwang, H-C. (2011). Note on "An Efficient for Solving the Lot-Sizing Problem with Time-Varying Storage Capacities". (EI reprint serie EI 1577 ed.) Econometric Institute. EI reprint serie Vol. EI 1577

van den Heuvel, W., Gutierrez, JM., & Hwang, H-C. (2011). Note on "An Efficient Approach for Solving the Lot-Sizing Problem with Time-Varying Storage Capacities. (EI report serie EI 2011-39 ed.) Econometric Institute. EI report serie Vol. EI 2011-39

Hwang, H-C., & van den Heuvel, W. (2009). Economic lot-sizing problem with bounded inventory and lost-sales. (EI report series EI 2009-01 ed.) DEPARTMENT OF ECONOMETRICS. EI report series Vol. EI 2009-01

van den Heuvel, W., & Wagelmans, A. (2008). A holding cost bound for the economic lot-sizing problem with time-invariant cost parameters. (EI report serie EI 2008-10 ed.) Econometrics. EI report serie Vol. EI 2008-10

van den Heuvel, W., & Wagelmans, A. (2008). Four equivalent lot-sizing models. (EI reprint reeks EI-1491 ed.) Econometric Institute. EI reprint reeks Vol. EI-1491

van den Heuvel, W., & Wagelmans, A. (2007). Four equivalent lot-sizing models. (Econometric Institute Report EI 2007-30 ed.) Econometrics. Econometric Institute Report Vol. EI 2007-30

van den Heuvel, W., Borm, P., & Hamers, H. (2007). Economic lot-sizing games. (EI reprint reeks EI-1466 ed.) Econometrics. EI reprint reeks Vol. EI-1466

van den Heuvel, W., Kundakcioglu, OE., Geunes, J., Romeijn, HE., Sharkey, TC., & Wagelmans, A. (2007). Integrated market selection and production planning: com. (EI report serie EI 2007-45 ed.) Econometrics. EI report serie Vol. EI 2007-45

van den Heuvel, W., & Wagelmans, A. (2007). Worst case analysis for a general class of on-line lot-sizing. (EI report serie EI 2007-46 ed.) Econometrics. EI report serie Vol. EI 2007-46

Teunter, RH., Bayindir, ZP., & van den Heuvel, W. (2006). Dynamic lot sizing with product returns and remanufacturing. (Econometric Institute Reprint EI-1432 ed.) Econometrics. Econometric Institute Reprint Vol. EI-1432

van den Heuvel, W., & Wagelmans, A. (2006). A polynomial time algorithm for a deterministic joint pricing and inventory model. (Econometric Institute Reprint EI 1404 ed.) Econometrics. Econometric Institute Reprint Vol. EI 1404

van den Heuvel, W., & Wagelmans, A. (2006). An efficient dynamic programming algorithm for a special case of the capacitated lot-sizing problem. (Econometric Institute Reprint EI-1432 ed.) Econometrics. Econometric Institute Reprint Vol. EI-1432

van den Heuvel, W., & Wagelmans, A. (2005). A comparison of methods for lot-sizing in a rolling horizon environment. (Econometric Institute Reprint EI-1360 ed.) Econometrics. Econometric Institute Reprint Vol. EI-1360

Teunter, RH., Bayindir, ZP., & van den Heuvel, W. (2005). Dynamic lot sizing with product returns. (Econometric Institute Report serie EI 2005-17 ed.) Econometrics. Econometric Institute Report serie Vol. EI 2005-17

van den Heuvel, W., Borm, P., & Hamers, H. (2004). Economic lot-sizing games. (Econometric Institute EI 2004-43 ed.) Econometric Institute Vol. EI 2004-43

van den Heuvel, W. (2004). On the complexity of the economic lot-sizing problem with remanufacturing options. (Econometric Institute EI 2004-46 ed.) Econometric Institute Vol. EI 2004-46

van den Heuvel, W., & Wagelmans, A. (2003). A geometric algoritm to solve the NI/G/NI/ND capacitated lot-sizing problem in O(T2) time. (Econometric Institute - ERIM Report Series 2003-066-LIS EI-2003- ed.) Econometric Institute - ERIM Report Series Vol. EI-2003-24

van den Heuvel, W., & Wagelmans, A. (2003). A polynomial time algorithm for a deterministic joint pricing and inventory model. (Econometric Institute / ERIM Report Series-065-LIS EI-2003-23 ed.) Econometric Institute / ERIM Report Series Vol. EI-2003-23

van den Heuvel, W., & Wagelmans, A. (2003). A note on a multi-period profit maximizing model for retail supply chain management. (Econometric Institute EI2003-36 ed.) Econometric Institute Vol. EI2003-36

Heuvel, W., & Wagelmans, A. (2002). A note on ending inventory valuation in multiperiod production scheduling. (Econometric Institute - ERIM Report Series 2002-63-LIS EI 2002-2 ed.) Econometric Institute - ERIM Report Series Vol. EI 2002-25
Working paper (4)
Academic (4)

van den Heuvel, W., Gutierrez, JM., & Hwang, H-C. (2010). Note on "An efficient approach for solving the lot-sizing problem with time-varying storage capacities". Econometric Institute, Erasmus University. Report serie Vol. EI 2010-70

Retel Helmrich, MJ., Jans, RF., van den Heuvel, W., & Wagelmans, A. (2010). Economic lot-sizing with remanufacturing: complexity and efficient formulations. Econometric Institute. Report serie Vol. EI 2010-71

van den Heuvel, W., & Wagelmans, A. (2010). Worst-Case Analysis for a General Class of Online Lot-Sizing Heuristics. (pp. 1-9). DEPARTMENT OF ECONOMETRICS. EI reprint reeks Vol. EI-1539

Hwang, H-C., & van den Heuvel, W. (2010). Improved algorithms for a lot-sizing problem with inventory bounds and backlogging. (pp. 1-30). DEPARTMENT OF ECONOMETRICS. EI report serie Vol. EI 2010-17
Additional activities (2)
IISE Transactions (Journal)

Editorial work (Academic)

Omega (Journal)

Editorial work (Academic)
Course (1)
Past
ERIM Research Clinic LIS (2019/2020)
---
Address
Visiting address
Office: ET-42
Burgemeester Oudlaan 50
3062 PA Rotterdam
Postal address
Postbus 1738
3000 DR Rotterdam
Netherlands