Inaugural Address: Forensic Finance
---
On Friday 19 September 2014, Patrick Verwijmeren, Professor of Corporate Finance, presented his inaugural address entitled 'Forensic Finance'.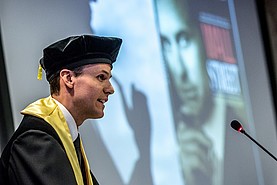 About the Inaugural Address
The financial world does not have the best reputation. One of the problems is the perceived lack of integrity of financial markets, which is fuelled by examples of financial misconduct. I argue that with financial data becoming more widely available and constantly improving, financial researchers could help in identifying suspicious behavior in financial markets. I will provide examples of potentially fraudulent behavior surrounding executive compensation and security issuance. Allegedly, companies have backdated executives' stock options and as such have increased executives' effective compensation, and there might be widespread insider trading before the announcements of privately placed securities. Systematic analyses of the available data could detect these examples of misconduct. Overall, forensic finance has the potential to detect suspicious behavior and as such could play an important role in understanding and improving the integrity of the financial world.
About Patrick Verwijmeren
Patrick Verwijmeren is a Professor of Corporate Finance at the Erasmus School of Economics (Erasmus University Rotterdam). Patrick specializes in convertible securities, short sales, corporate governance, and testing capital structure theories. He has publications in Journal of Financial Economics, Review of Financial Studies, Journal of Financial and Quantitative Analysis, Journal of Financial Intermediation, Financial Management, Journal of Corporate Finance, Financial Analysts Journal, Journal of Banking & Finance, Journal of Retailing, Urban Studies, and Applied Financial Economics, among others. He has presented at many international conferences, including the WFA, AFA, EFA, and FMA meetings, and has been a speaker at TEDx. His research on proxy access has been cited in final rulings by the U.S. Securities and Exchange Commission and Patrick has also been involved in writing a report for the Dutch Ministry of Finance on the influence of hedge funds. In 2013, Patrick received the prestigious Netherlands Organization for Scientific Research VIDI grant.
Photos: Chris Gorzeman / Capital Images