PhD Defence: An Organizational Perspective on Auditor Conduct
---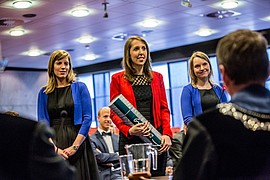 ERIM's Jorien Pruijssers confronts the misconduct of auditors in the aftermath of the financial crisis in her upcoming dissertation, 'An Organizational Perspective on Auditor Conduct'. Jorien develops a novel perspective on auditor conduct by examining it from the organizational rather than regulatory perspective and further demonstrates that auditor integrity can be engendered via thoughtful organizational design and that auditor misconduct can be mitigated through use of similar tools.
Jorien defended her dissertation in the Senate Hall at Erasmus University Rotterdam on Friday, 29 May 2015. Her supervisors were Professor Hans van Oosterhout and Professor Pursey Heugens. Other members of the Doctoral Committee included Professor Frank Hartmann (EUR), Professor Muel Kaptein (EUR) and Professor Warren Knechel (University of Florida).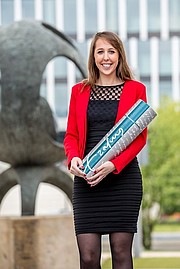 Jorien Pruijssers (1987) received her Master's degree in Law and Accounting (with distinction) from the London School of Economics and Political Science and her Bachelor in Economics (with great distinction and on the Dean's honor List) from McGill University. She started her PhD at the Rotterdam School of Management of the Erasmus University in December 2010, and was a visiting PhD at HEC Paris. Jorien is currently an Assistant Professor of Accounting at the Desautels Faculty of Management of McGill University. Next to her academic activities, Jorien was a treasurer of the PhD council at the Rotterdam School of Management, and a member of the organizing committee of the PREBEM Conference in Rotterdam. Jorien's work lies at the intersection of Auditing and Strategic Management and focusses in particular on understanding auditor behavior through an organizational lens. Jorien is a member of the American Accounting Association and the European Auditing Research Network.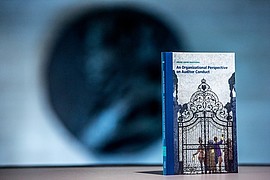 Auditor misconduct has played a crucial role in the financial turmoil of the past decades, but is hardly understood itself. Research to date has focused almost exclusively on how external regulations can guard the integrity and quality of audit services, but has ignored the influence of audit firms' organizational features on auditor behavior. This is a potentially serious omission as organizational factors may be potential causes for auditor misconduct, and because organizational practices could be potential remedies to auditor misconduct. In this dissertation, I seek to redirect the conversation on auditor conduct by taking an organizational perspective. This dissertation therefore provides compelling evidence that the organizational context of audit firms indeed has a significant impact on auditor behavior. In so doing, I show that an exclusive reliance on regulatory reforms may not be sufficient to foster auditor integrity and that effective remedies to combat audit failures reside at the level of the organizations providing the audit. I therefore provide important and innovative contributions to both the Audit and Organizational literature.
Photos: Chris Gorzeman / Capital Images