PhD Defence: Jasmien Khattab
---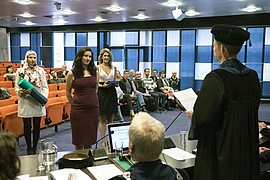 In her dissertation 'Make Minorities Great Again: A contribution to workplace equity by identifying and addressing constraints and privileges', ERIM's Jasmien Khattab aims to provide a comprehensive account of how stereotypes and bias cause workplace inequality when it comes to leadership careers.
Jasmien Khattab defended her dissertation in the Senate Hall at Erasmus University Rotterdam on Friday, 12 May 2017 at 09:30. Her supervisor was Prof. Daan van Knippenberg and her co-supervisor was Dr Anne Nederveen Pieterse. Other members of the Doctoral Committee were Prof. Ashleigh Shelby Rosette (Duke University), Prof. Steffen Giessner (Erasmus University Rotterdam) and Dr Daan Stam (Erasmus University Rotterdam)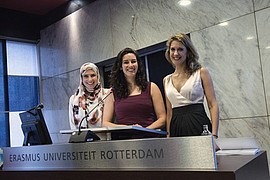 As the product of the Dutch and Egyptian culture, it was only natural that Jasmien Khattab sparked an interest in diversity and stereotypes. With a two-year sidestep into government work after Jasmien Khattab obtained her Bachelor's and Master's degree (cum laude) in Social Psychology from the University of Amsterdam, she started her PhD project at the Erasmus Research Institute of Management, Erasmus University Rotterdam in 2012 with Professor Daan van Knippenberg and Dr. Anne Nederveen Pieterse. In her dissertation, she investigates the factors that contribute to the underrepresentation of minorities in management, and she contributes to the current knowledge on overcoming bias. Jasmien presented her research at several international conferences, including the Academy of Management Annual Meetings, the New Directions in Leadership Research at Duke University, and the Leadership Excellence and Gender Symposium at Purdue University. Jasmien's dissertation work is currently under review at leading management journals, and she has a paper conditionally accepted at the Academy of Management Annals.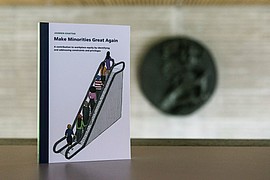 Over half a century after the introduction of anti-discrimination laws that prohibit employers from discriminating against employees on the basis of sex, race, color, national origin, and religion, such as Title VII of the Civil Rights Act of 1964 (United States), and the Discrimination (Employment and Occupation) Convention of 1958 (International Labour Organization), workplace inequality based on these social categories continues to persist. This dissertation aims to provide a comprehensive account of how stereotypes and bias cause workplace inequality when it comes to leadership careers. Thus, the first two academic chapters focus on barriers to equal opportunities in the workplace (Chapter 2), and on gaining a better understanding the unique barriers that minorities face in using their networks (Chapter 3). In addition, it aims to offer new ways to overcome bias, as well as a starting point to equalize privilege between majorities and minorities. Therefore, the latter two academic chapters examine how the underrepresentation of minorities in leadership positions leads to gender-biased perceptions of leadership effectiveness, thereby highlighting the precarious landscape that women need to navigate in order to be perceived as effective (Chapter 4), and what effective leadership entails for cultural minority leaders, thereby highlighting the need for an approach to leadership effectiveness that takes demographic contingencies into account (Chapter 5). The insights in this dissertation form the basis of several suggestions on how to create a work environment that offers more equal opportunities for minorities' career advancement.
Photos: Chris Gorzeman / Capital Images