PhD Defence: Christina Wessels
---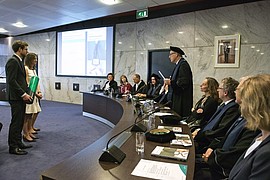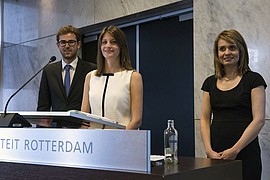 Christina Wessels was born in 1987 in Neuss, Germany. From 2008 to 2011 she studied International Business (BSc.) with a major in Organizational Behavior at Maastricht University, the Netherlands. In 2012, Christina obtained her Master of Science (cum laude) in Business administration with a focus on organizational change from Rotterdam School of Management (RSM), Erasmus University.
In January 2013, Christina started her PhD at RSM in the department of Technology & Operations Management under the supervision of Prof.dr. Eric van Heck, Prof.dr. Peter van Baalen, Prof.dr. Michaéla Schippers, and dr. Karin Proper. Her PhD research was conducted in close collaboration with the Dutch National Institute for Public Health and the Environment (affiliated with the Dutch ministry of health, welfare and sports). In her PhD research, Christina investigated an organization-wide change project on flexible working practices and its influence on employee performance and well-being. Christina's research interests lie at the intersection of organizational behavior, information technology, and organizational psychology.
Christina has presented her work at national and international management and organizational psychology conferences such as the Academy of Management Annual meeting (2014, Philadelphia, USA; 2015, Vancouver, Canada; 2016, Anaheim, USA) or at the bi-annual meeting of the European Association for Work and Organizational Psychology (2013, Münster, Germany; 2015, Oslo, Norway). During Christina' PhD candidacy, she supervised 30 Master theses students, and was co-instructor of the Business Information Management Master elective 'Future of work'. Christina is fond of running, skiing, and travelling and lived in Spain and the United States for a considerable amount of time.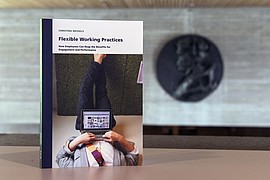 Technological developments such as the advent of laptops, mobile devices, and related new communication channels (e.g., social and business networks, instant messaging programs) enabled the uptake of flexible working practices in knowledge work organizations. A flexible working policy allows employees to determine where they work, when they work, and how they work. Even though flexible working practices enjoy great popularity among knowledge work organizations, the effects of such practices are poorly understood. From research findings so far, a clear case for flexible working practices cannot be made, as studies have shown that flexible working practices lead to positive, negative, and zero effects for performance and well-being. Hence, organizations, scholars, and employees are left behind with these equivocal findings producing a lack of understanding of whether and how employees and their organizations can reap the benefits of flexible working practices. This dissertation uncovered that performance and well-being gains through flexible working practices can be achieved. In particular, the results of this dissertation (a) revealed that employees themselves need to become proactive in the form of time-spatial job crafting and media job crafting if they want to reap the benefits of flexible working practices (b) emphasize that understanding the effects of increases in spatial flexibility inside the office building (activity-based areas) for performance and health outcomes requires to take on a process evaluation approach and (c) uncovered that perceived workplace flexibility positively relates to work engagement and predicts performance over time; thereby this dissertation presented a model of flexibility development that enables employees to reap performance and work engagement benefits over time.
Photos: Chris Gorzeman / Capital Images