Dr. A.P. (Agnieszka) Markiewicz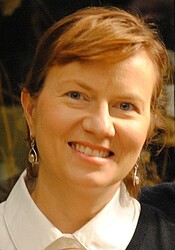 Erasmus School of Economics (ESE)
Erasmus University Rotterdam
Associate Member ERIM
Field:
Finance & Accounting
Affiliated since 2009
Agnieszka Markiewicz is assistant professor in economics department. She works on income inequality dynamics and asset pricing.
Publications
Chapter (1)
Academic (1)

Markiewicz, A., Bordo, M., & Jonung, L. (2010). Does the euro need a fiscal union? Some lessons from history. In G. E. Wood (Ed.), Monetary and Banking History Routledge.
Conference proceeding (3)
Academic (3)

Markiewicz, A., & Lewis, V. (2009). Model Misspecification, Learning and the Exchange Rate Disconnect Puzzle. In B.E. Journal of Macroeconomics, Topics (Vol. 9) https://doi.org/10.2139/ssrn.1683950

Markiewicz, A. (2006). Choice of Exchange Rate Regime in Transition Economies: An Empirical Analysis. In Journal of Comparative Economics (Vol. 34)

Markiewicz, A. (2006). How Central and Eastern European Countries Choose Exchange Rate Regime. In Focus on European Economic Integration (Vol. 2)
Paper (1)
Academic (1)

Boskovic, B., Kapoor, S., Markiewicz, A., & Scholnick, B. (2018). The Importance of Add-on Goods: Evidence from a Nationwide Retailer of Durable Goods.
---
Address
Visiting address
Office: Tinbergen Building H14-29
Burgemeester Oudlaan 50
3062 PA Rotterdam
Postal address
Postbus 1738
3000 DR Rotterdam
Netherlands