B.T.C. (Bart) van Rossum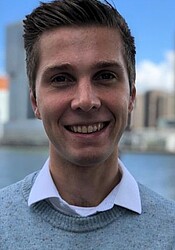 Erasmus School of Economics (ESE)
Erasmus University Rotterdam
ERIM PhD Candidate
Field:
Logistics & Information Systems
Affiliated since 2020
PhD Track Integrated Railway Planning
Publications
Chapter (1)
Academic (1)

van Rossum, BTC., & Frasincar, F. (2019). Augmenting LOD-Based Recommender Systems Using Graph Centrality Measures. In 19th International Conference on Web Engineering (ICWE 2019) Springer-Verlag. https://doi.org/10.1007/978-3-030-19274-7_2
Conference proceeding (1)
Academic (1)

van Rossum, B., Chen, R., & Lodi, A. (2023). Optimizing Fairness over Time with Homogeneous Workers. In D. Frigioni, & P. Schiewe (Eds.), 23rd Symposium on Algorithmic Approaches for Transportation Modelling, Optimization, and Systems (ATMOS 2023) (Vol. 115, pp. 17:1-17:6). Article 17 Schloss Dagstuhl--Leibniz-Zentrum für Informatik. https://doi.org/10.4230/OASIcs.ATMOS.2023.17
Working paper (1)
Academic (1)

van Rossum, B., Dollevoet, T., & Huisman, D. (Accepted/In press). Dynamic Railway Crew Planning with Fairness over Time. Econometric Institute Report Series, EI 2022-10.
Events (3)
Research Seminar
As: Speaker
Research Seminar
As: Speaker
Research Seminar
As: Speaker
---
Address
Visiting address
Burgemeester Oudlaan 50
3062 PA Rotterdam
Postal address
Postbus 1738
3000 DR Rotterdam
Netherlands