Prof. dr. I. (Ingolf) Dittmann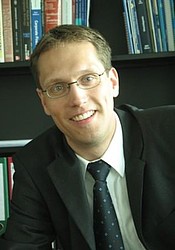 Full Professor
Erasmus School of Economics (ESE)
Erasmus University Rotterdam
Fellow ERIM
Field:
Finance & Accounting
Affiliated since 2005
Ingolf Dittmann is a professor of corporate governance and managerial accounting at the Erasmus School of Economics (ESE).
Professor Dittmann's major areas of interest lie in corporate finance, corporate governance, executive compensation and behavioural finance.
He is a member of both ERIM and the Tinbergen Institute.
He chaired the research project "Explaining Stock Options in Executive Compensation" that is financed by a vidi grant from the Netherlands Organisation for Scientific Research, NWO (2006-2010). Moreover, he currently chairs the research project "Inferring Preferences from Managerial Compensation Data" that is financed by a vici (2013-2017) grant from NWO.
Earlier career roles include that of visiting scholar at the University of California in San Diego.
Professor Dittmann received his PhD from Dortmund University and his Habilitation (a second German degree) from Humboldt-University at Berlin.
Please take a look at his personal website in: https://personal.eur.nl/dittmann/
Publications (18)
Inaugural Speech
I. Dittmann (2008). The Structure and Level of Executive Pay . Oratie (2008, januari 16). Rotterdam: Erasmus Universiteit
PhD Tracks (2)
Role: Member Doctoral Committee
PhD Candidate: Patrick Verwijmeren
Time frame: 2005 - 2008
Role: Promotor
PhD Candidate: Dan Zhang
Time frame: 2008 - 2012
---
Address
Visiting address
Office: Tinbergen Building H14-23
Burgemeester Oudlaan 50
3062 PA Rotterdam
Postal address
Postbus 1738
3000 DR Rotterdam
Netherlands