Z. (Zherui) Yang MSc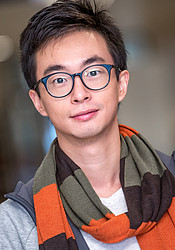 Rotterdam School of Management (RSM)
Erasmus University Rotterdam
ERIM PhD Candidate
Field:
Logistics & Information Systems
Affiliated since 2017
Zherui Yang has been working in the field of e-commerce and digital business. He has particular interests in the impact of information technology on customer behavior, business performance, and organizational transformation. He has also attempted to explore business ecosystem perspective combining with organization behavioral theories.
For his PhD project, he is collaborating with an insurance company on a new project regarding customer segmentation strategy with multi-channel solution. 
---
PhD Track Customer-Oriented Multichannel Management during Digital Transformation: Evidence in Insurance Industry
The fast development of Internet and digital technologies has caught up to the insurance industry. Digital tools such as big data and advanced analytics enables a variety of new business applications by collecting, analyzing and operationalizing a large pool of data. Leading digital insurers with the focus on customer centricity can transform digital power harvested from vast amount of data into the customer power, improving marketing, underwriting and customer experience. By proactively utilizing multiple digitized channels to interact with customer and smoothly involve customers into the digital transformation, insurers are able to cultivate harmonious customer relationship, consequently gain competitive advantages and reap considerable benefits.

In this PhD project, I propose multichannel customer management to deal with the integrated strategies for digital transformation and customer-orientation. More specifically, in this proposal, I propose three studies. The first study investigates customer heterogeneity from aspects of customers' individual digital capability and information seeking intensity, which facilitates the understanding of the impact of multichannel transformation (i.e. offline-online channel migration) on customer behavior. The second study discovers the relationship between multichannel management and customer-based performance. By calculating potential payoff (in terms of customer lifetime value) of the investment in customer data integration from different channels, the study links the macro aspect of IT data investment to micro aspect of customer-based payoff. The third study introduces the dynamic concept of customer life states with customer life event prediction. With the application of hidden Markov model, the study investigates how to improve the effectiveness of cross-selling solicitations on customer purchase decisions via different channels.

The proposed studies aim to contribute to the literature by discovering the role of multichannel management in customer-oriented digital transformation and how the transformation process would have impact of customer behavior, company performance and long-term business view. In the following chapters, I present a general introduction of the PhD project, a comprehensive literature review and detail overviews of the proposed studies.
Keywords

Customer Centricity, Digital Transformation, Multichannel Management, Customer Heterogeneity, Customer Data Integration, Digital Value, and Customer Life State

Time frame

2017 -
Publications (3)
Articles (3)
Z. Yang & T. Li (2020). Life-Event Targeting and Customer Uncertainty – Evidence from Field and Online Experiments. In Proceedings of the 19th Workshop on e-Business (WEB-2020)

Z. Yang, Z. Cheng & T. Li (2019). Still targeting younger customers? A field experiment on digital communication channel migration. In Proceedings of the International Conference on Information Systems. Munich, Germany

Z. Yang & C. Ou (2017). Investigating the impact of recommendation agents on e-commerce ecosystem. In Proceedings of Americas Conference on Information Systems (AMCIS)
---
Address
Visiting address
Office: Mandeville Building T09-36
Burgemeester Oudlaan 50
3062 PA Rotterdam
Postal address
Postbus 1738
3000 DR Rotterdam
Netherlands