PhD Defence: The Information-Based View on Business Network Performance
---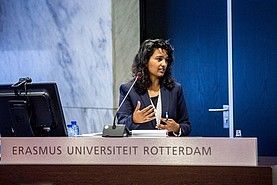 Many products and services such as cars, computers, insurance and health care are not produced by a single organisation, but by a co-ordinated network of organisations. New research by Sarita Koendjbiharie indicates that for the evaluation of this network's performance, managers should assess along firm, customer and systems dimensions of performance. Ignoring a dimension could present managers with a misleading view on how well the network is doing.
Since these organisations are interdependent yet legally separate, their managers cannot afford to focus exclusively on their own operations and performance. They have to take into account the decision-making and actions of network partners and the performance of the whole network. While there is sufficient knowledge on what constitutes and drives organisational performance, Sarita Koendjbiharie's dissertation 'The Information-based View on Business Network Performance' is the first to shine a light on network performance in particular.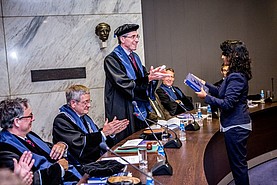 Sarita Koendjbiharie provides answers by presenting three dimensions of business network performance. All three dimensions – firm, customer and systems – are important for
Lead organisations such as Apple, Dell, Ryanair, Nike and Toyota should therefore pay attention to the goals and values their partners pursue and monitor how transparent or opaque their networks are.
With these drivers in mind, network leaders could chose to invest in inter-organisational systems, structure incentives differently or invest in meeting the information needs of network partners that are brokered by other organisations.performance evaluation and the findings suggest that ignoring a dimension can present managers with a misleading view on how well their network is doing. In addition to offering comprehensive evaluation, her thesis also focuses on what factors impact network performance. Laboratory experiments and a field study show how the information available in the network and guiding principles of partners play important roles in the level of performance reached.
Sarita defended her dissertation in the Senate Hall at Erasmus University Rotterdam on Thursday, 4 September 2014 at 13:30. Her supervisors were Professor Eric van Heck and Professor Peter Vervest and her co-supervisor was Professor Otto Koppius. Other members of the Doctoral Committee were Professor Jan van den Ende and Professor Pursey Heugens (ERIM), and Professor Patrick Kenis (TIAS).
About Sarita Koendjbiharie
Sarita Koendjbiharie (1982) did her Bachelor Business Administration and Master Marketing Management at the Rotterdam School of Management. She held several positions at companies as marketing assistant and assistant editor before joining the then Department of Decision and Information Sciences as a PhD candidate. Her research centres on network level performance and the role of information in inter-organizational networks. She presented her work at international conferences including Sunbelt, WIN Workshop, EGOS and Academy of Management Annual Meeting. In addition to research, she served as a PhD representative in the department board and focused on course coordination, master thesis supervision and workshop instruction with students and managers. She was the project coordinator for a large scale scientific collaboration, responsibilities included managing twenty in-company master thesis projects. Currently, Sarita holds a position as lecturer and academic internship supervisor at the Faculty of the Humanities at Leiden University for International Studies. She designs and teaches courses on Organizational Theory, Culture and Behaviour and International Consultancy Projects in the curriculum; and is building the organizational network for the program.
Abstract of The Information-Based View on Business Network Performance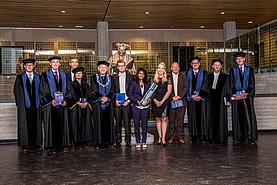 In the last thirty years, global developments including advancements in ICT and process and product modularization have made the network form of organization more widespread than ever before. In many industries large vertically integrated organizations have been supplanted by flexible networks of independent organizations. In other industries and sectors, individual organizations continue to operate through the traditional organizational form of a business network. The proliferation of business networks presses the need to move theoretical development on processes and outcomes forward, beyond actor and dyadic level to the whole network level of analysis. Network performance studies however, have been scattered both across time and across management disciplines, and offer diverse concepts, measures and drivers, which slows down the theoretical build up. A related problem is that the conceptual issue of what constitutes performance on a network level, has been left unaddressed. The main purpose of this dissertation is therefore to conceptualize and explain the performance of inter-organisational networks. This is done by executing three studies: conceptualization research laboratory experiments and a field case study. Step by step an integrated framework is built in this dissertation that represents the information-based view on network performance and its theoretical mechanisms. This dissertation pushes the boundaries of knowledge on network performance, increases the understanding and ability of practitioners to manage their networks and sets the agenda for future network performance research.
Photos: Chris Gorzeman / Capital Images