prof.dr.ing. F.A.J. (Frans) Van Den Bosch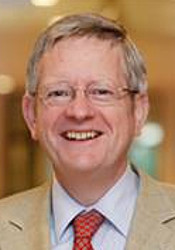 (external) researcher
Rotterdam School of Management (RSM)
Erasmus University Rotterdam
Honorary Fellow ERIM
Field:
Strategy & Entrepreneurship
Affiliated since 1999
Frans A.J. Van Den Bosch is a professor of management interfaces between organisations and environment at the Department of Strategic Management & Entrepreneurship, Rotterdam School of Management, Erasmus University (RSM).


Professor van den Bosch's major research interests lie in the development of integrative strategy frameworks incorporating both the externally and internally-focused view of strategy; the application of these frameworks to general management issues such as management models, non-technological sources of innovations like management innovation; strategic renewal processes, organisational ambidexterity and corporate governance.


He has been appointed as an honorary ERIM fellow and till April 2012 was among others chairman of the Programme Board of the Erasmus Research Institute of Management (ERIM); coordinator of the ERIM Research Programme in Strategy; director of the Erasmus Strategic Renewal Centre (ESRC); and director of the Dutch Partner Institute of the World Economic Forum (WEF).

Since May 2012, he has a part-time appointment focusing mainly on research, PhD supervision and MSc thesis supervision. On the occasion of his Valedictory Lecture (May 2012) associated with his departure as full-time professor he received a Royal Order ("Officier in de Orde van Oranje-Nassau").


He has published several books and over 175 articles in scientific journals including chapters in books on strategy, international business, general management, economics and industry studies.


His scientific papers have appeared in, among others, the Academy of Management Journal, Business and Society, Corporate Governance, the Economist, the European Management Journal, International Studies of Management and Organisation, the Journal of Management Studies, Long Range Planning, Management Science, Organisation Science, Organisation Studies and Strategic Management Journal.


Professor van den Bosch is actively involved in the business community and public sector. His former roles include that of vice-chairman of the Rotterdam Chamber of Commerce, member of the Rotterdam City Council, chairman of the Rotterdam Enterprise Prize Committee, advisor of a Dutch trade union association and chairman of the Board of Non-executive Directors of Dutch companies. At present he is on the Board of Non-executive Directors of a large Dutch Foundation providing care for elderly people.


He is a fellow of the Netherlands Institute for Advanced Study in the Humanities and Social Sciences (NIAS) and a board member of several scientific journals including Long Range Planning and Organisation Studies.


He has supervised 34 PhD theses, has been member of more than 30 PhD committees and acted as an external examiner at among others Antwerp University, City University London, Warwick University and the Indian Institute of Science.


Earlier in his career, Professor van den Bosch was an assistant professor and an associate professor of economics at the Faculty of Economics, Erasmus University Rotterdam. He later joined the Delft Graduate School of Management as an associate professor of economics. He was appointed professor of management at RSM in 1988.


He holds a BA in mechanical engineering with distinction from the Polytechnic of Rotterdam and a MSc in economics degree cum laude from Erasmus University Rotterdam. He has a PhD in law from Leiden University, the Netherlands.
Work in Progress (8)
M.L.M. Heyden, S. van Doorn, M. Reimer, Frans, A.J. Van Den Bosch & H.W. Volberda (2018). Environmental Uncertainty, Competitive Performance and Top Management Heterogeneity: Examining Cross-Level Correlates of CEO Advice-Seeking. Organization Studies:2nd round.
M. Stienstra, Frans, A.J. Van Den Bosch & H.W. Volberda (2018). Strategic Renewal Actions of North-West European Energy Incumbents during Deregulation: The Interaction of Market Regulation and Trait Imitation. Organization Studies:2nd round.
H.W. Volberda, J.J.P. Jansen, F.A.J. van den Bosch & R.O. Mihalache (2018). Untangling the effects of knowledge and dynamic capabilities on exploratory and exploitative innovation. Journal of Business Venturing.
J. Reuer, E. Klijn, F.A.J. van den Bosch & H.W. Volberda (2018). Board Oversight Monitoring in International Joint Ventures. Organization Science.
M.G.M. Ben-Menahem, J.J.P. Jansen, Frans, A.J. Van Den Bosch & H.W. Volberda (2014). Leveraging Exploratory and Exploitative Innovation in Dynamic Environments: The Performance Implications of Proactive Strategic Timing. In working paper
M.W. Roza, H.W. Volberda & Frans, A.J. Van Den Bosch (2012). Offshoring and Firm Growth: Direct Effects of Core and Outsource Offshoring and Indirect Effect of Absorptive Capacity. In Work in progress
S. van Doorn, J.J.P. Jansen, F.A.J. van den Bosch & H.W. Volberda (2012). The mediating role of decision making comprehensiveness; How senior team search behavior translates into entrepreneurial orientation.
C.V. Heij, H.W. Volberda & F.A.J. van den Bosch (2012). How to leverage technological knowledge on product and service innovation: the complementary effect of management innovation. 2nd CIR Conference: Tilburg (2012, juni 15 - 2012, juni 17).
Recognitions (8)
Editorial positions (3)
Journal of Management Studies

Editorial Board

Long Range Planning

Editorial Board

Organization Studies

Editorial Board
Organization Memberships (4)
European Academy of Management

Panel Chair

European Group for Organizational Studies

Panel Member

Academy of Management

Panel Chair

Academy of Management
Side positions
Committee Amsterdam Metro North-South Line / "Committee Veerman"

Advisor
---
Address
Visiting address
Office: Mandeville Building T07-57
Burgemeester Oudlaan 50
3062 PA Rotterdam
Postal address
Postbus 1738
3000 DR Rotterdam
Netherlands