prof.dr. J.J.P. (Justin) Jansen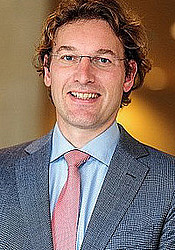 Full Professor
Rotterdam School of Management (RSM)
Erasmus University Rotterdam
Fellow ERIM
Field:
Strategy & Entrepreneurship
Affiliated since 2001
Justin Jansen is Professor of Corporate Entrepreneurship at Rotterdam School of Management.
He is intrigued by the notion that most organizations tend to focus on existing businesses and clients, and are not able to break away from existing routines and processes in order to explore into new territories. To what extent are existing firms able to facilitate the emergence of entrepreneurship within their organization and – even more difficult – balance this desire of innovation and change with a continued focus on operational excellence? Professor Jansen's research provides new insights into the roles of leadership, the organizational design as well as the development of novel capabilities as to improve long-term viability and performance.
Based on the impact of his research, professor Jansen has recently been named as one of the most influential scientific minds worldwide by Thomson Reuters. Regarded as ' Hot Research', the ideas generated by and outcomes of Jansen's work have affected the future of management research in important new ways. Professor Jansen has also been named as one of the top-100 leading professors in the field of entrepreneurship, and noted to be one of the individuals cultivating the leaders of tomorrow.
His research on strategic leadership, organizational learning and absorptive capacity, organizational ambidexterity and corporate entrepreneurship has been published in various academic journals including the Academy of Management Journal, Journal of Business Venturing, Journal of Management, Journal of Management Studies, Leadership Quarterly, Management Science, Organization Science, Strategic Entrepreneurship Journal, and Strategic Management Journal . Moreover, his research has received recognition throughout the field and several accolades including the ERIM best paper award, the ERIM best dissertation award, and the SAP best strategy paper. He is a recipient of the Erasmus Research Fellowship. Professor Jansen is currently an associate editor of the Journal of Management Studies and serves on the editorial boards of the Academy of Management Journal, Academy of Management Review and the Strategic Management Journal.
Professor Jansen is scientific director of the Erasmus Centre for Entrepreneurship (www.ece.nl). This center provides a unique platform that ranges from scholarly insights about (corporate) entrepreneurship and new opportunities, startup campuses for ambitious entrepreneurs, to exciting executive programs for leading and initiating entrepreneurial behaviors within established organizations.
Justin Jansen also acts as a (research) consultant, speaker, and external advisor to a variety of companies as well as governmental agencies. He has designed and developed workshops as well as management programs about the ability of organizations to identify and initiate novel growth paths, to develop strategic leadership, and to combine seemingly opposing forces such as innovation and operational excellence. Moreover, he has advised governmental agencies on the improvement of the entrepreneurial climate in the Netherlands and on spurring the number of fast-growing organizations.
Work in Progress (3)
S. Ahmadi, J.J.P. Jansen & S. Khanagha (2018). Fostering dispersed entrepreneurship within large organizations – Can stretch goals stimulate new business initiatives?
S. Ahmadi, L. Berchicci & J.J.P. Jansen (2018). A Psychological Perspective On Manager's Exploration Orientation : The Role of Regulatory Focus, Regulatory Fit, and Complexity of Decisions Making.
H.W. Volberda, J.J.P. Jansen, F.A.J. van den Bosch & R.O. Mihalache (2018). Untangling the effects of knowledge and dynamic capabilities on exploratory and exploitative innovation. Journal of Business Venturing.
Publications (43)
Articles (26)
R.O. Mihalache, J.J.P. Jansen, F.A.J. van den Bosch & H.W. Volberda (2012). TMT processes as antecedents of management innovation: The moderating role of absorptive capacity. In Academy of Management Best Paper Proceedings

R.A.J.L. van Wijk, J.J.P. Jansen & M.A. Lyles (2009). Social capital, knowledge transfer and outcomes: Meta-analytic evidence on a moderated mediation model. In G.T. Solomon (Ed.), Academy of Management Best Paper Proceedings
Book Contributions
R.O. Mihalache, M. Mihalache & J.J.P. Jansen (2011). Offshoring knowledge vs. labor intensive services: A contingency perspective. In A. Verbeke, R. van Tulder & A.T Tavares (Eds.), Entrepreneurship in the Global Firm (Progress in International Business Research, 6). Emerald
Professional Publications (14)
J.J.P. Jansen, P.G.J. Roosenboom, J. Veenenbos & M. Van Ostaijen (2017). Business Angels in Nederland: Een verkenning naar een nieuwe onderzoeksmethode en beleidsaanpak. (Extern rapport). Den Haag: Ministerie van Economische Zaken

H. Fasaei, J.J.P. Jansen & M.P. Tempelaar (2014). The Dark Side of Good Corporate Reputation: The Effect of Good Corporate Reputation On Over-exploration & Over-exploitation of Firms. In European Academy of Management Conference (EURAM), Valencia

H. Fasaei, J.J.P. Jansen & M.P. Tempelaar (2014). The Inertial Effect of Good Corporate Reputation on Exploration-Exploitation Interplay. In Academy of Management Annual Meeting (AOM), Philadelphia

I.G. Vaccaro, J.J.P. Jansen, F.A.J. van den Bosch & H.W. Volberda (2013). Innoveert de CEO wel mee? M en O, 67 (5), 91-106.

J.J.P. Jansen & T.J.M. Mom (2012). (Workshop) Ambidexter leiderschap voor superieure prestaties - Total Specific Solutions Group.

J.J.P. Jansen & T.J.M. Mom (2011). (Workshop) Innovatie en vernieuwing binnen het Waterschap - Waterschap.

T.J.M. Mom & J.J.P. Jansen (2011). Inleiding: Investeren en ondernemen tijdens crises? In Corporate Effectuation: Wat managers kunnen leren van ondernemers

J.J.P. Jansen & T.J.M. Mom (2010). (Workshop) Strategie en Structuur - Frames Group.

Frans, A.J. Van Den Bosch, H.W. Volberda & J.J.P. Jansen (2007, november 12). Minister Donner staart zich blind op ontslagrecht. Trouw
Recognitions (4)
Editorial positions (4)
Academy of Management Journal

Editorial Board

Academy of Management Review

Editorial Board

Journal of Management Studies

Associate Editor

Strategic Management Journal

Editorial Board
PhD Vacancy (1)
Media and policy makers are fond of new or small ventures that are able to scale-up quickly bringing new products and services to the market while creating new jobs. Start-up firms play a vital role in generating new business activities and in creating economic welfare; however, various studies have clearly explicated that many nascent organizations do not survive – and if they do - remain relatively small (Hopkins, 1997). In the United Kingdom, for instance, growing firms represent only a small minority yet they generate the majority of new jobs in recent years (Nesta, 2009; 2011). Interestingly, a comprehensive set of start-up programs and policy reforms in Denmark in the early 2000s led to a dramatic increase in the numbers of ventures formed, but when analysed five years later, the vast majority had plateaued at a few employees, and fewer than 1% met the fairly modest criteria set to be considered "growth" ventures. So what's the problem? Why don't we have as many successful growing organizations we can point to? What makes it so difficult for start-ups and micro organizations to move into areas of comparative advantage and high-value added as to generate attractive growth patterns?
Despite their importance, thus, there is a dearth of empirical evidence of this phenomenon while there are no current unifying theories that explain how some firms are able to scale up and grow at fast paces while others do not. In particular, we lack knowledge on the drivers of scale-up venture successes, on the mechanisms and processes of scale-up ventures and on the dynamics of capability and resource reconfiguration during the scaling-up. The main objective of this PhD project is to shed light on the phenomenon of scale-up ventures exposing the drivers, processes, mechanisms, capabilities, resources and structures that allow them to succeed. By doing so, this project has the potential to contribute to the bodies of knowledge of entrepreneurship and strategy fields while providing ventures teams relevant practical implications.
Read more
---
Address
Visiting address
Office: Mandeville Building T07-29
Burgemeester Oudlaan 50
3062 PA Rotterdam
Postal address
Postbus 1738
3000 DR Rotterdam
Netherlands